Mini nonstick iron pan is suitable for making sandwiches, soft-boiled eggs, pancakes, fried steaks, scrambled eggs, omelets, and other smaller portion, sunny side up food, etc.
Proper size 3.9"/10cm, more suitable for everyday use!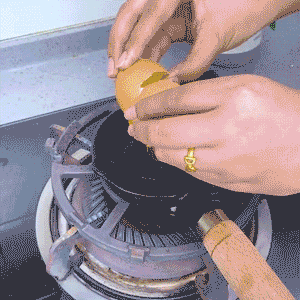 Why do you need an Iron Pan?
This iron pan is cast from cast iron and almost not contains heavy metal elements which harmful to human health. And cooking with iron pan will be conducive to iron dissolved from iron pan, the iron attached to the food and absorbed by human body.
Iron is an essential trace element, so it is good for people to use iron pans.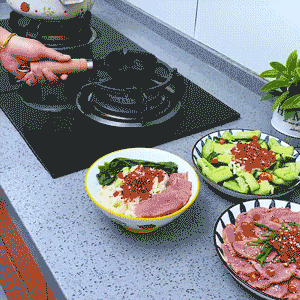 MAIN FEATURES
[Mini Frying Pan]
Mini 3.9" frying pan for making sandwiches, soft-boiled eggs, pancakes, fried steaks, scrambled eggs, omelets, and other smaller portion, sunny side up food, etc. It is even used to heat oil and pour it on top of cooked food to increase the taste of food.  
[Healthy and Nonstick]
Special casting iron pores on the surface of cast iron pan can absorb oil and form a healthy protective layer, which makes the pan nonstick and less oil smoke.
(The coating on general nonstick pan is composed of chemical substances, easy to produce harmful substances to human body after cooking, it is harmful to health with long-term use.)
[Strong and Durable]
Casting in one piece, no splicing, no chemical coating, it is strong and durable. Easy to use and clean. With a compact size, it is easy to carry and store.
[Uniform Heat Conduction]
Thickened pan bottom, uniform heat conduction. A good pan that never picks stoves. Suitable for gas stove, induction cooker, light wave stove, Radiant-cooker, etc.  
[Thoughtful Wooden Handle]
Adopting wooden handle, which is non-thermal and easy to grasp. Stainless steel screw fixation makes it durable and long lasting. Hanging hole design, it is convenient for hanging storage.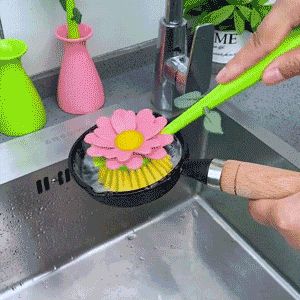 Warm Tips:
The new iron pan needs to boil before use, and dry the water after each use, otherwise it will rust. It doesn't matter if it rusts, clean the rust and bring it to a second boil.
The iron pan had better not have residual water, or it may rust overnight. So you need to dry the pan after every use. It is best to reapply a layer of grease to maintain.
Boil Process:
☑ Step 1: Clean the entire pan. Place the newly purchased iron pan under the faucet and wipe every corner with a soft cloth to remove debris and dust from the casting process. Do NOT use any detergent.
☑ Step 2: Turn the heat to minimum and slowly dry all the water in the pan.
☑ Step 3: Keep the heat low, take a fat pork belly or fat (if not, use a cotton cloth dipped in vegetable oil) and swirl it all over the inside of the pan for at least 3-5 minutes as the fat browns and caramelizes.
☑ Step 4: Turn off the heat, cool the pan and rinse thoroughly with cold water.
☑ Step 5: Return to low heat and prepare for a second boil. Rotate the pan until the bottom and 4 edges are boiled. Continue to rotate and smear with fat for another 3-5 minutes.
☑ Step 6: Rinse clean, continue to dry with low heat, then daub a layer of soybean oil or peanut oil, and place overnight to complete maintenance. This pan is boiled, and can be used normally.
SPECIFICATIONS
Material: Casting Iron
Color: Black
Pan Size: 3.9"/10 cm
Package Includes: 1 x Mini Nonstick Iron Pan 3.9"/10 cm

NOTE
Due to manual measurements, please allow slight measurement deviations.
Due to the different display and lighting effects, the actual color of the item may be slightly different from the color displayed on the picture.