Cute and vivid little iron man adds a little dynamic and beautiful to your furniture decoration
Product description
The little iron man stands on the top and swings with his hand to swing for a while.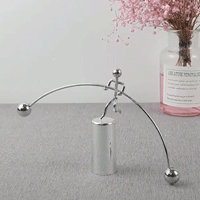 Product specifications
Product material: metal
Product size: large 18*11CM small 7*7CM
Product weight: large 100g small 40g
Packaging includes
Carton packaging +1*big feet/small feet
Notes
Crafts are handmade, can not achieve perfection, pay more attention to the design sense and the uniqueness of each item. If you take a magnifying glass carefully, you will lose the feeling of the beauty of handmade products. We are more willing to appreciate and taste. You share the joy of having them together!