Have one = Have six chopping gadgets Have you ever seen one
Multipurpose vegetable cutters can do as they please, so you don't have to buy separate products for these different kitchen jobs. The best choice for chefs and housewives!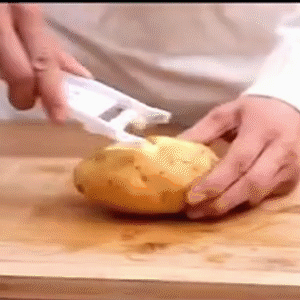 Love life! Enjoy your cooking! No more worrying about chopping vegetables!
FEATURE
Can slice, slice, cut net flower, scrape, cut foam, dig eyes, etc., practical multi-functional kitchen helper, no matter what shape you need to cut vegetables, our multi-functional vegetable cutter can meet your needs
Slice:it can cut block vegetables into pieces of uniform thickness, making the food more exquisite
Cutting silk: the length and volume of the cut silk are similar, beautiful and delicious
Cut net flower: such as all kinds of cold dishes, pickles and so on, the real color, fragrance and taste
Skin scraping:sharp knife edge, cut out the skin is very thin, do not waste food
Rub foam: rub garlic, ginger, cabbage filling, avoid cutting stuffing with a kitchen knife, produce noise
Eye gouging:Dead eyes for digging out lumpy vegetables such as potatoes, sweet potatoes, carrots, etc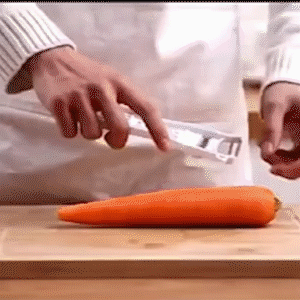 If you do plenty of slicing and julienne by hand, a Versatile kitchen vegetable cutter is the kitchen gadget need in your life, will save a lot of time and effort. 
The ABS plastic is non-toxic and BPA-free, the blade is made of high quality stainless steel, durable and easy to clean, to ensure a healthy diet for your family.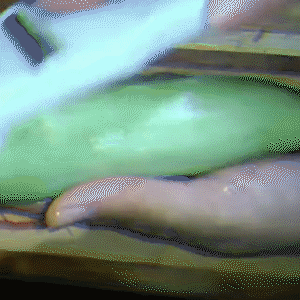 All blades are on the main body, so there is no fear of blades being lost. Humanized radian design, suitable for hand curve, suitable for grasping, you can cut the shape and size of vegetables or fruits you want in a period of time.
Versatile Kitchen vegetable Cutter makes cooking simple and convenient, allowing you to enjoy the fun of cooking. It is also very suitable as a gift to friends and relatives.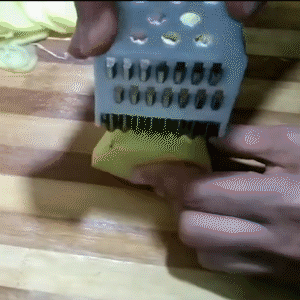 Attention:
When using or cleaning Versatile kitchen vegetable cutter, directly touching cutter with finger is strictly prohibited.(Suggest usingcleaning brush to remove residueleft on cutter)
Children are prohibited fromusing the product.please keep well and place out of the reach of children.
Versatile kitchen vegetable cutterisn't suitable to cut meat.
Please read our product manual carefully before use.
Specifications:
Size: 17.3 * 7.5 cm
Weight: 28 g
Material: ABS stainless steel
1*Versatile Kitchen vegetable Cutter
Tips:
The size is measured by hand, the error is 0-2cm, the specific is based on the actual drawing