As time goes on, we are watched more and more, by people we can't even see. If you want to protect yourself and your loved ones from unwanted eyes, the Hidden Camera Detector is just what you need.

This hidden camera detector is designed to help you do just that! Whether you're in a public toilet, hotel, fitting room, car, or bedroom, this awesome tool will keep you safe.
The ultimate solution for protecting your privacy and ensuring that you are not being monitored by hidden cameras: This powerful device uses advanced radio frequency (RF) detection technology to scan your surroundings and detect the presence of any wireless cameras that may be hidden from view.
High-sensitivity digital chip controller: 1st to 6th LED lights show signal strength. The more blue LEDs there are, the more sensitive the device is. Built-in digital control chip can expand the search range.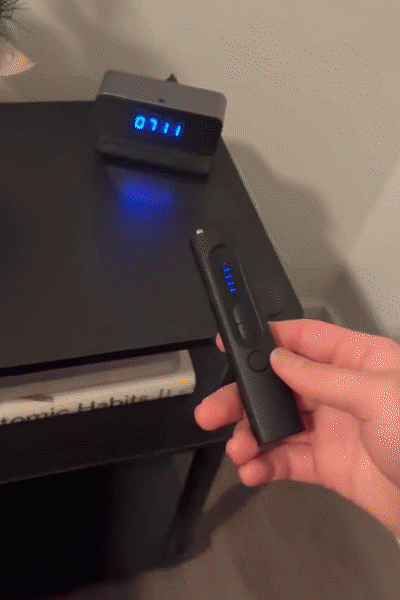 RF Detector: Detect Hidden WiFi cameras, cell phone bugs, wireless listening devices, and GPS trackers, a built-in high-sensitive digital microcontroller to control the RF signal sensitivity in 6 levels, and press the button to adjust it.
Compact and Portable: Compact and light weighted. You can take it anywhere you want. A necessity for your travel and stay in a hotel. 
The perfect privacy security guardian to have by your side???
SPECIFICATIONS
Working time: 24 consecutive hours
Signal detection range: 5cm-10m
Sensitivity: 6-level adjustable
Receiving frequency range: 1MHz -- 6.5GHz
Optical lens: special special filter
Charging power supply: DC5V/1A
Charging interface: Type-C
Battery: 3.7V/400mA polymer lithium battery
Antenna gain: - 56db
Size: 2.5cm*10.8cm*1.5cm
Material: PC
Questions & Answers
Does it work to find all kinds of cameras?
Yes, it can help you to find different kind of cameras especially hidden camera. 
How does GPS tracking mode work?
After you turn it on, the detector will automatically enter the radio wave detection mode (the blue light is on). If the detector beeps or vibrates, it means there is radio waves from nearby equipment which might be GPS tracker. After determining the approximate location, pull out the antenna and move it up and down close to the location of the device. Most GPS trackers are magnetic, once the detector close to it, it can be easily magnetically attached to the device.
Is it complicated to use? I'm not very proficient with electronic devices.
This Camera detector is easy to use, with three modes to switch, you can use it to detect magnetic fields, radio waves, hidden cameras, GPS trackers, eavesdropping devices and etc.